Our story begins in 1889 when Torello Grassi was born in Reggello, near Leccio.
Shortly afterwards the family moved to Santa Lucia, in the municipality of Figline Valdarno and Torello, after fighting in the First World War, married Giulia Billi, moving to work as a sharecropper for the engineer Morozzi.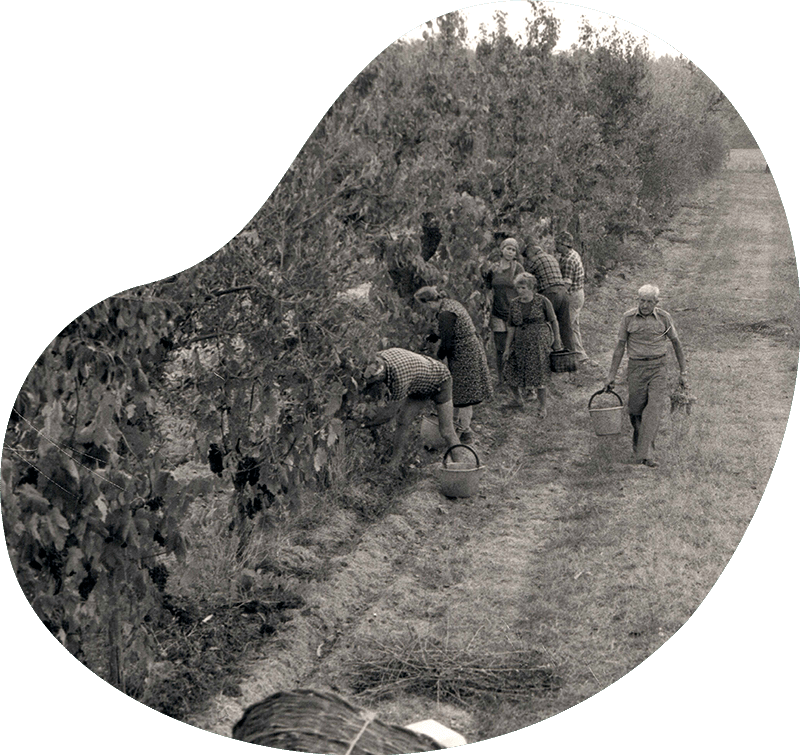 In those days traders used to move from one farm to the other to deal with cattle and thus had the opportunity to know before anyone else whether some land had been abandoned in favour of other. By word of mouth, they gave farmers who wanted to move the opportunity to change farms and grow in structure and farmland.
In this way in 1939 Torello moved with his family, three sons and a daughter, from the Morozzi farm to the nearby Podere Poggerina I of the homonymous farm.
The new farm had more arable land and vineyards than the previous one, allowing the family to expand production and raise cows, pigs, chickens and sheep.
The two eldest sons left for the Second World War, while the third son never reached the front, because he heard about the Liberation on the transfer train and returned home, something that the second son, who died in Russia, did not do.Torello had only three children left at the end of the war, Orlando, Renato e Rina, who got married and left the family.
The eldest son Orlando married in 1951, but stayed at home where he decided to raise his two children, Meri and Armando.

In 1963, Torello died and, three years later, the family moved to Podere Poggerina II, incorporating the land of the two farms and thus increasing production.
During these years they bought a motor mower for cutting hay and wheat, while other work was carried out with cows. Orlando and Renato also worked on the Poggerina farm and it was at this time that tractors began to be used largely in the fields.
With the advent of combine harvesters in 1970, threshing on the farmyard was abandoned and, with the end of sharecropping, the family bought Podere Poggerina II. In this phase of the company's growth, the traditional "loppi", maple trees that supported the vines, were uprooted and the new vineyard was planted.
With the death of Orlando, his son Armando took over the farm, expanded and improved it, carrying on the family project with the help of his wife and children.
Today the farm, certified organic since 2016, has 3 hectares of vineyards as well as 6 hectares of olive groves and arable land.
We relive the history of the farm also through these photos taken in the 60s, 70s and 80s where you can recognize various activities of rural life: from the grape harvest to the wheat harvest, from the racking in the cellar to the collection of haybales.